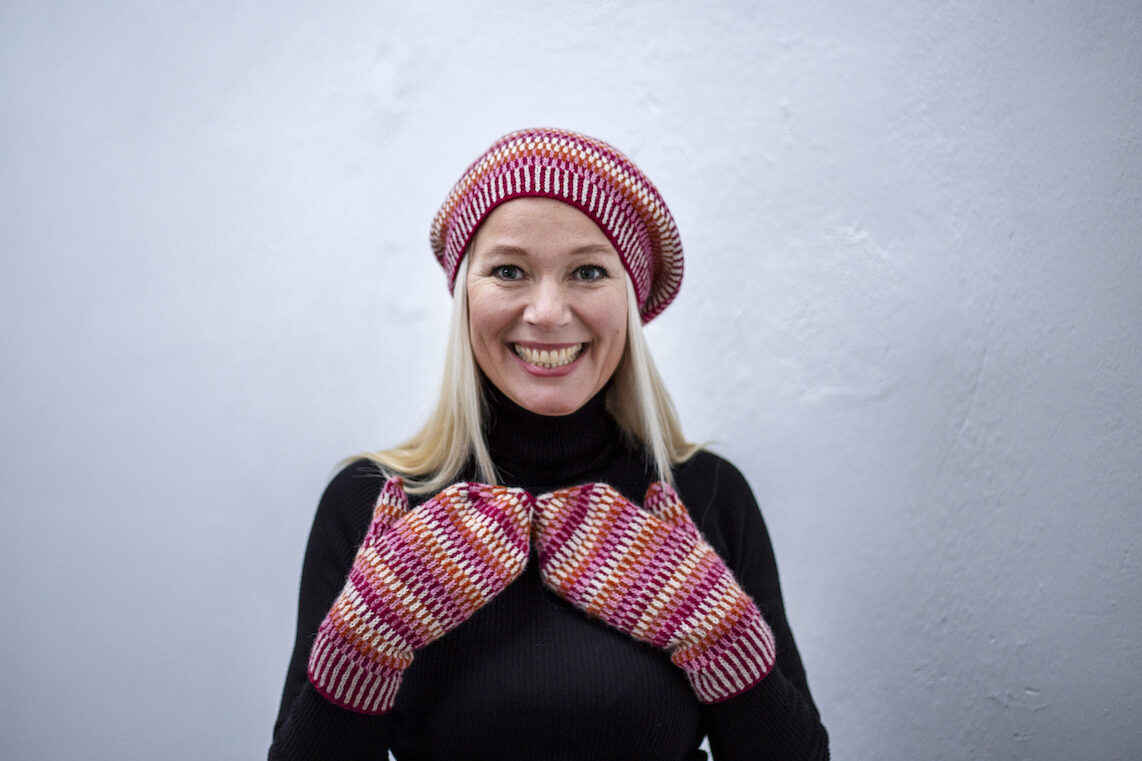 2021 is suddenly over. Another lockdown year gone, but also a busy and good year. For me the year where my pattern, Madrigal, was published in Pom Pom Quarterly 39.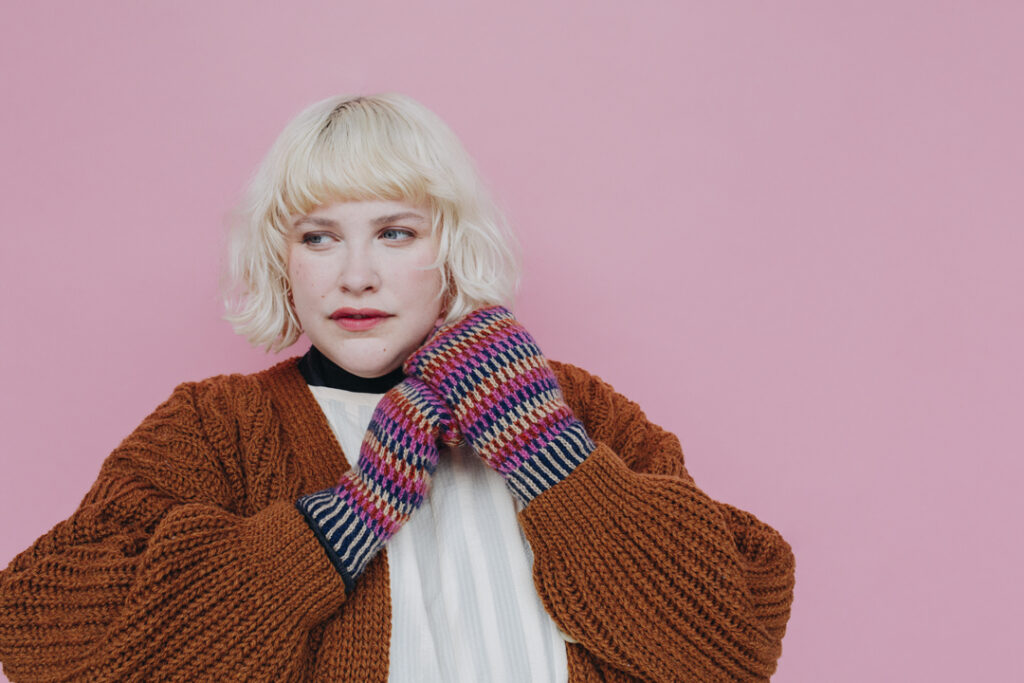 The pattern has different levels of repetition.
The most obvious is the color change when knitting a round, alternating stitches of two colors.
But the four colors are also repeated in the same sequence throughout the pattern, and at the same time, dominance is shifted for every 9 rounds.
Together, the multiple repetitions form a whole where no one color dominates over the others. Thus the name Madrigal, which is a type of choral music where voices weave in and out of each other, creating a whole.
Pom Pom's color choice feels very modern, and it was interesting for me to knit the sample in a color combination so far from what I would have chosen myself! Here is the Pom Pom color combination along with 3 combinations that I chose: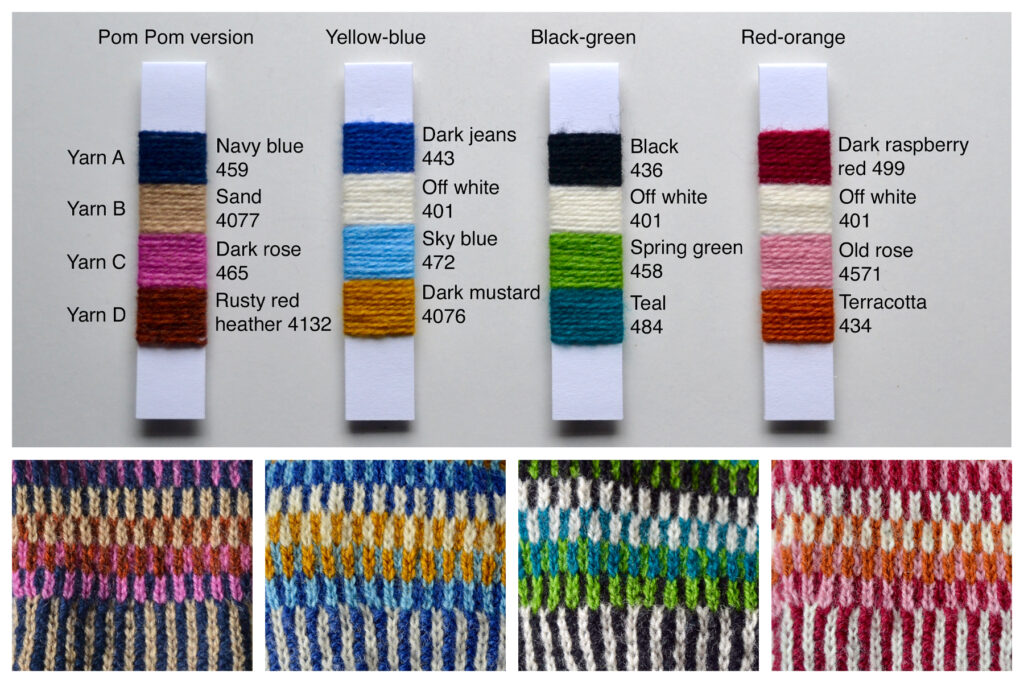 My eye wants the Madrigal pattern in clear color combinations with a lot of contrast, which honestly belong in the 90's, the decade where knitting almost died! The feel of the different combinations is truly different, but in the end, the Madrigal design works well in so many 4-color combinations.
All that's required is 4 colors with good contrast, and that can be achieved by choosing one light, one dark, and two in-between colors. Or, work the pattern in more than 4 colors, without repeating a color sequence.
The pattern itself is an older story. I took it from mittens knitted by a friend of our family, who is in her mid-80's and has been making mittens in this style for many years.
Here's two mittens our friend made for my children. The small one looks centuries old, but this is what anything my son has worn for a bit looks like. Sand drizzles out of the small mitten if you shake it gently.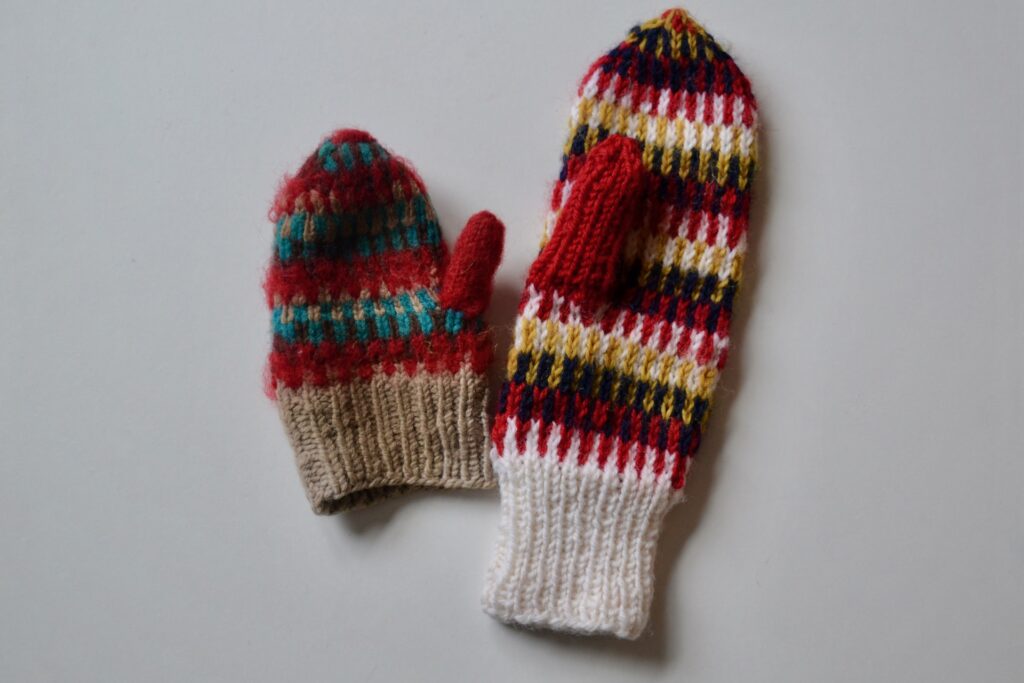 Small repeat patterns on mittens are a part of Danish knitting tradition that has not been given much attention. I wrote an article about small pattern repeat mittens in the Danish knitting magazine <a href="https://www.gavstrik.dk/medlemsbladet/">Gavstrik 2021, nr. 1</a>. Here, I'll just give a couple of examples. One is the front cover of the classic book by Vibeke Lind, Knitting in the Nordic Tradition (1981) where small repeat patterns are seen on the mitten on the top right and the black and white hat at the bottom right.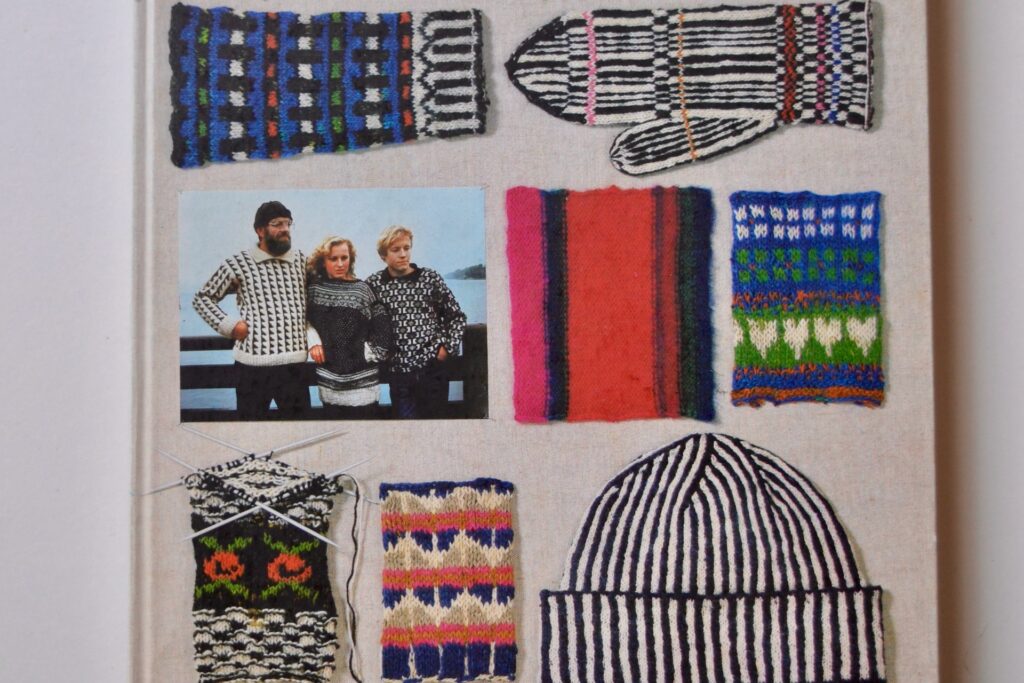 The Textile Museum in Herning, central Denmark, has a whole collection of small pattern repeat mittens. These mittens were the subject of a workshop series i held last year. Herning was at the center of commercial hand knitting of the 19th century.
Below are a pair of black and green mittens from Aulum, a small town in the same region of Denmark as Herning. The mittens are made by Kirstine Nyholm, who was born in the 1860's. In 1886, she married Johannes Nyholm, and they lived in a house with a small field. This comes from the museum registration of the mittens, and the word it uses for their home tells us that they were poor people. The registration also says that Kristine Nyholm always made the mittens this way, and that she gave them to "people and their children". The mittens are from the late 19th or early 20th century and are a lovely example of small pattern repeats. I am going to knit a copy at some point!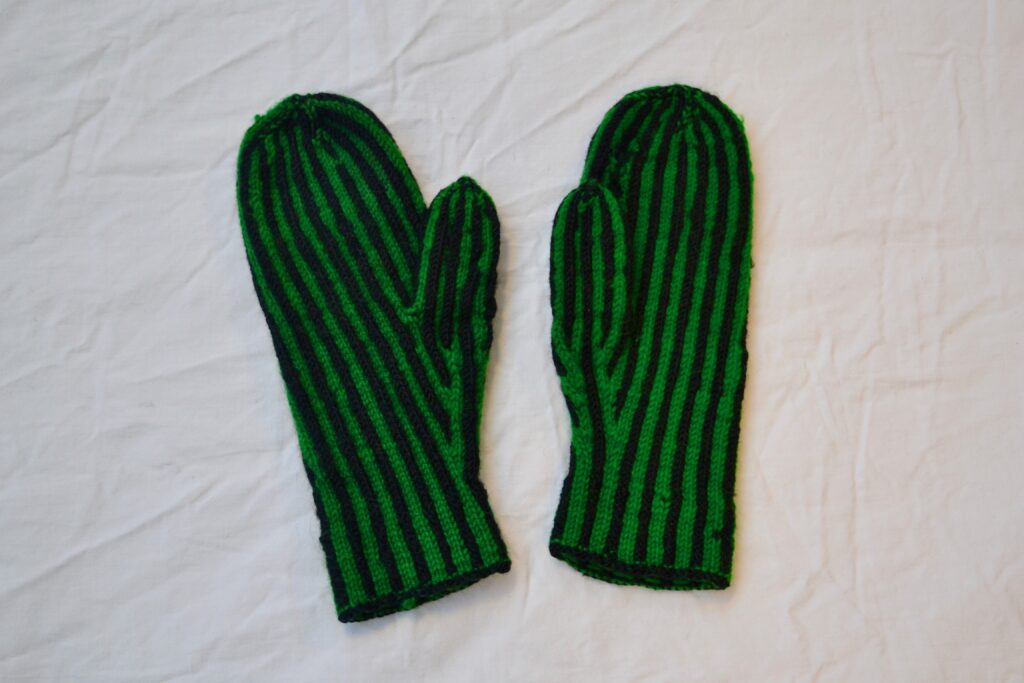 Lise Warburg gives a theory about small pattern repeats in her book "The Knitting Madonna" (I don't know if there is an English translation of this book). She sees it as a relict of an older knitting tradition, twined knitting. Warburhg says that the small repeats come natural in twined knitting.
Older knitting traditions, ones that pre-date the actual knitted artefacts that have been preserved, are difficult to addresss. But it is remarkable that of all the mittens collected in the area around Herning, none have more than two stitches of one color before the other color is used. Is it only in this area, or did it cover a larger area? Nobody has made that study, yet.
But back to Madrigal. I love having mitten and hat sets, and I mostly grab for the matching sets on my way out the door, instead of using all those hats and mittens that don't match anything. So I've designed a hat to go with the mittens. The small pattern repeat also works very well for a hat. Here is the Madrigal Hat in blue-yellow: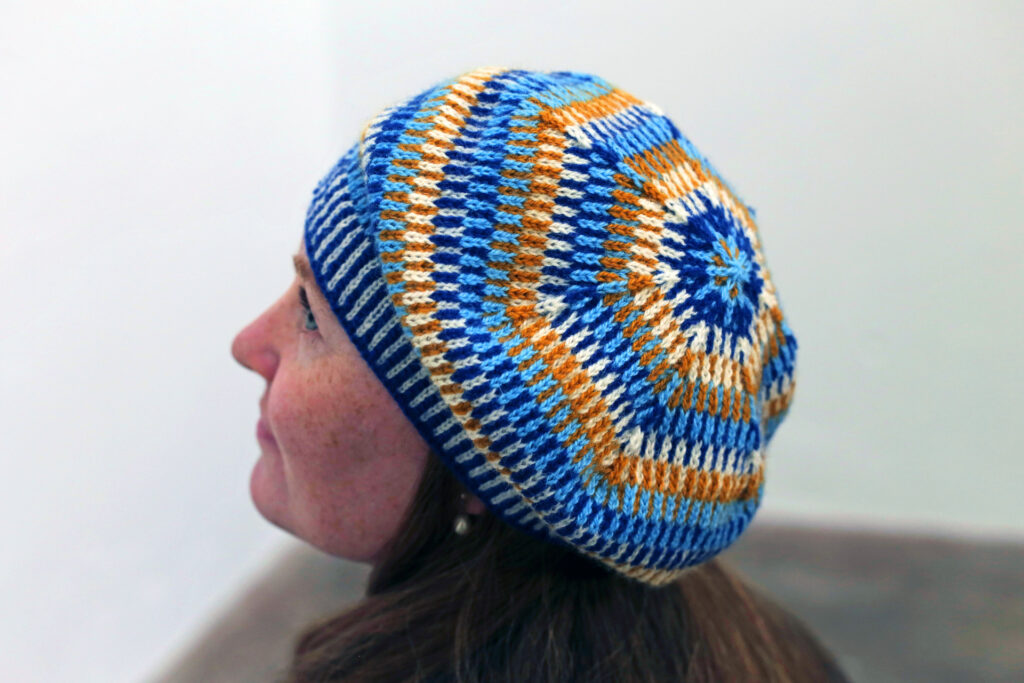 And here is the set in red-orange
The Madrigal Set is made with Rauma Finull, with a gauge of 28 sts to 10 cm (4 inches) in stranded knitting. If you have yarn – Finull or another wool that gives the right gauge – and would just like to buy the hat pattern, you will find it here. The mitten pattern can be found in Pom Pom 39, which you'll find here. And kits with yarn in the different color combinations can be found here: