The Textile Museum in Herning, Denmark, owns a collection of hand knitted objects from the area around Herning in Jutland, Central Denmark. The collection contains shawls, underwear, socks, and footless socks. I work at the Textile Museum, and I'm currently giving a series of workshops centered around the knitted objects. A good group of about 10 knitters attend, and together we analyze the construction of the objects and try to recreate them, often in several rounds of knitting and discussion.
The first series of workshops was about shawls. The most well know shawl in the collection is doubtless the shawl that Danish knitwear designer Åse Lund Jensen examined and published a pattern for. She was very interested in historical knitting, and this very pattern pointed me in the same direction. So seeing the original shawl was very exciting. It is knitted from several green yarns with a black lace edge: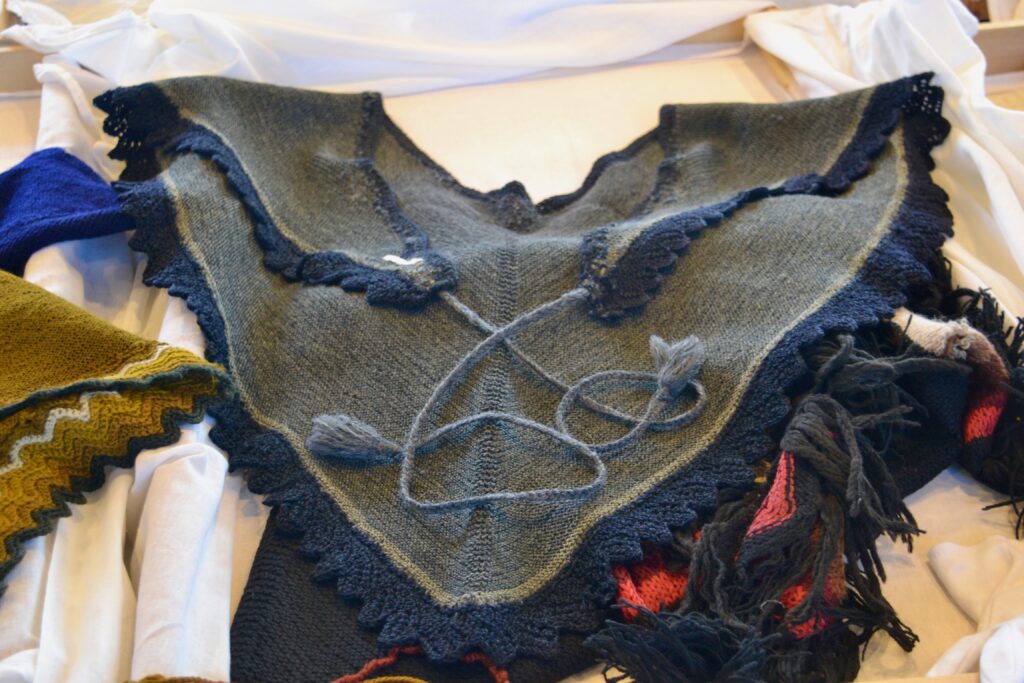 A bit hard to see, but the neck area is knitted using a thinner yarn. This is also the case with several other shawls in the collection, and I think it must be to make the shawl fit better: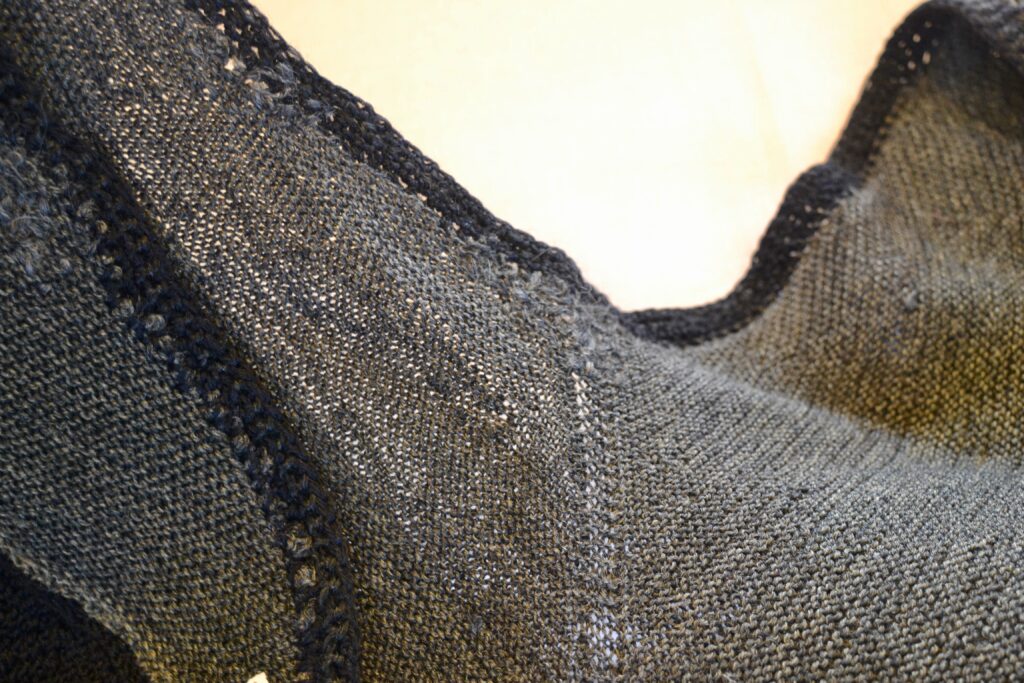 The objects's registration is not very informative. All it says is this: "Grey, knitted, with black edge. Typical, used in the 1880-1890's and before and after. Practical piece. Herning parish, Hammerum shire. Gift from Mrs Jensen, Vestergade 85, Herning. 29/9-1931". That's all (and I really think it's green, not grey. But I like the description "practical piece").
Åse Lund Jensen died in 1977, and knitwear designer Marianne Isager took over her company and back catalogue of patterns. That is the reason that this and many other Lund Jensen patterns have lived on after her death. Some years ago, the shawl pattern became very popular in a striped but otherwise identical version known as "Chamomile". A very nice example of knitting heritage being passed on, I think.
This brown tie shawl also caught my eye, and made me fall in love immediately! It has been in the museum's collection since 2004: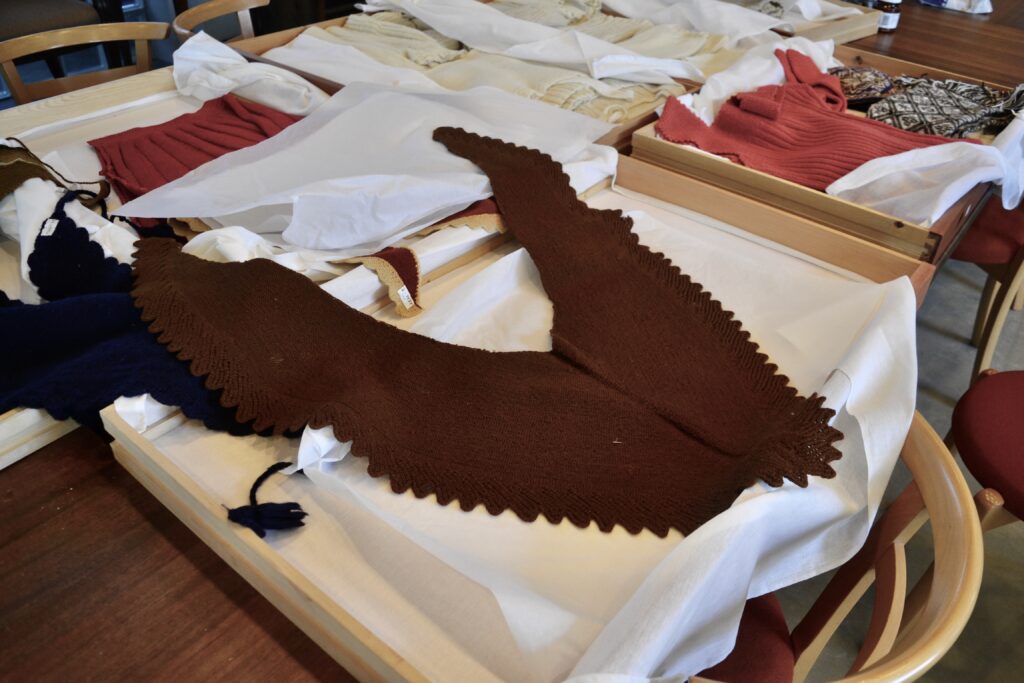 The objects's registration tells us the following about the brown shawl: "Tie shawl. Material: Brown wool. The tie shawl is shaped. Has a lace edge. Ties in the tip of the triangle. Several repairs. Donor inherited it from her grandmother Karen Marie Møller, b. 1841, d. 1921, married to blacksmith Jens Peter Kristensen (later took the name Møller) b. 1840, d. 1925".
Here's a better photo of the edge: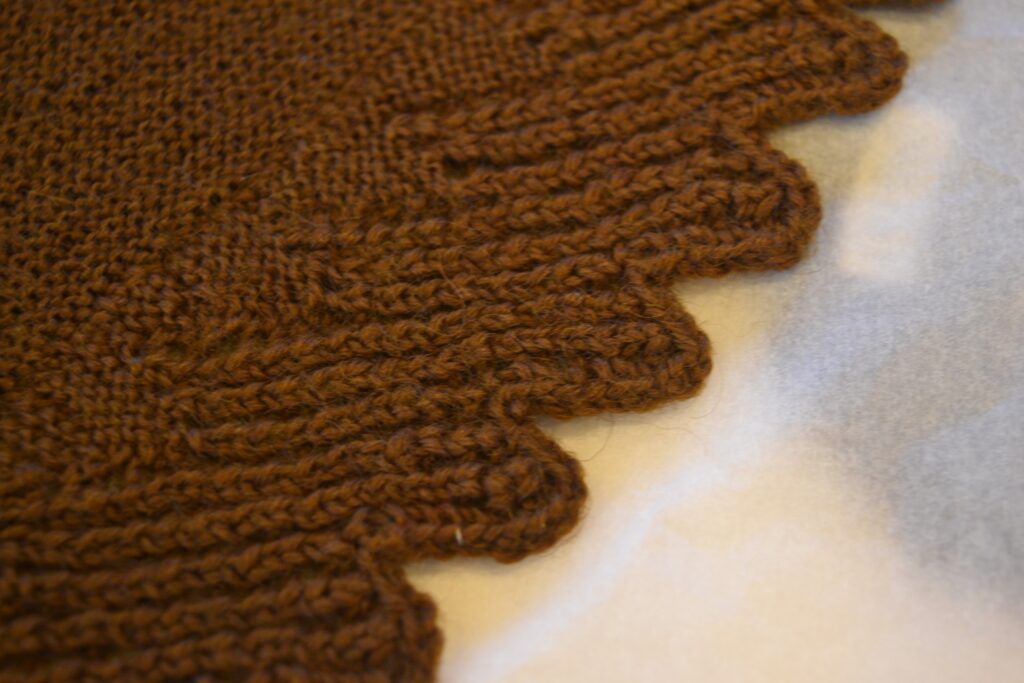 I have knitted quite a few swatches and several whole shawls based on the brown tie shawl. First a light blue version, which was on display along with the original in a special exhibition at the Textile Museum. I also made a brown version, using naturally dyed wool from my other page, Midgaards Have.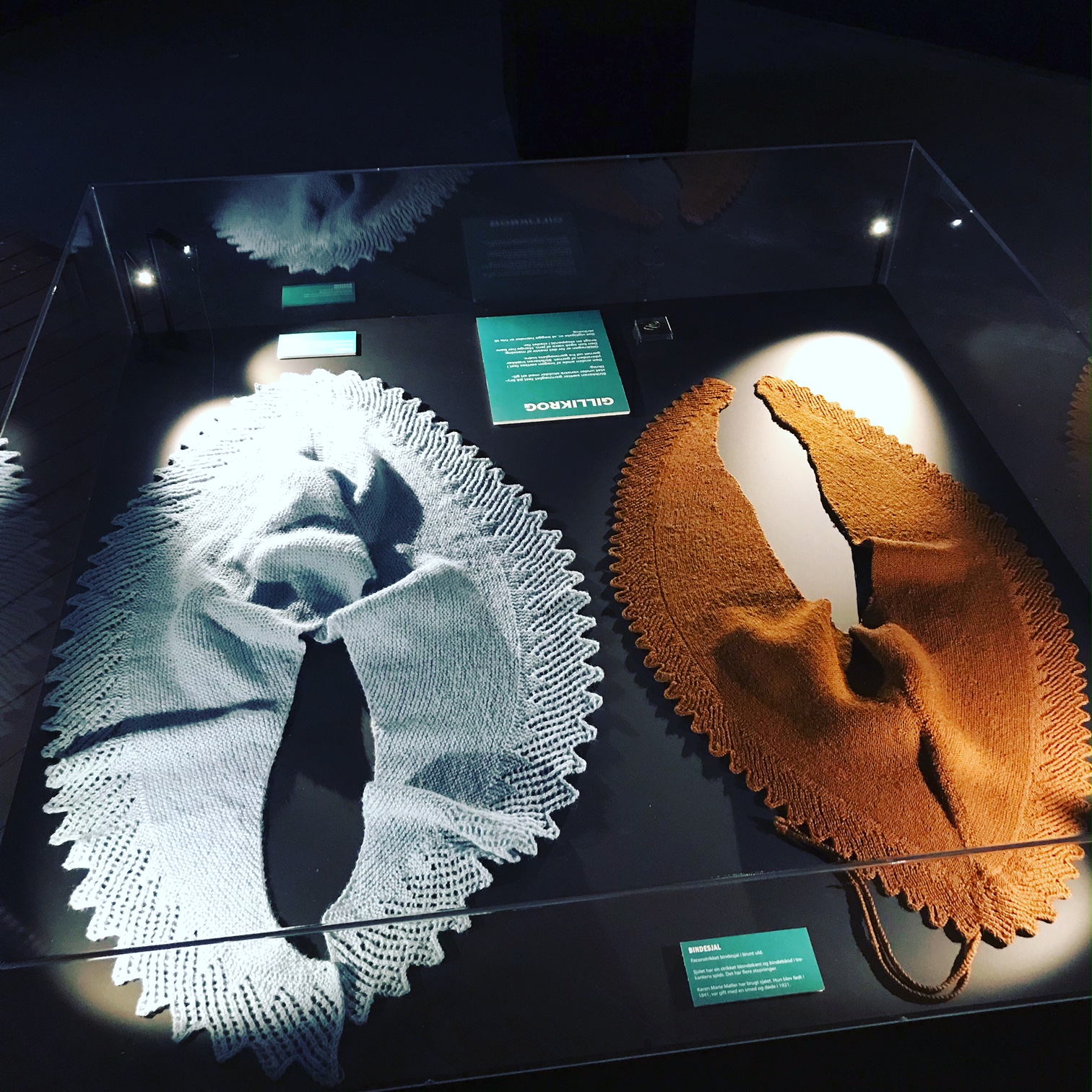 Finally I knitted the shawl in Rauma Finull, a yarn very well suited as it drapes well at this gauge, but also holds the shape so the lace tips can be blocked. Blocking shawls is a Shetland technique, and as far as I know the technique was not used for Danish tie shawls. They were knitted at a very dense gauge to use as outerwear, not for decoration.
My version of the shawl is modern. I worked it at a much looser gauge, so this will not work as outerwear in rough weather. But it can be an indoor "practical piece", keeping the body warm and arms free for working around the house. It can also be decorative, especially if worked without ties. The construction is also modern. The historical shawls were worked from the outside, beginning with a large stitch count and decreasing on both sides of the work using only the knit 2 together decrease. The edge was worked separately and sewn on. My shawl is worked from the neck out and the edge is knitted on – I just find that easier! Here is the shawl worked in grey Finull: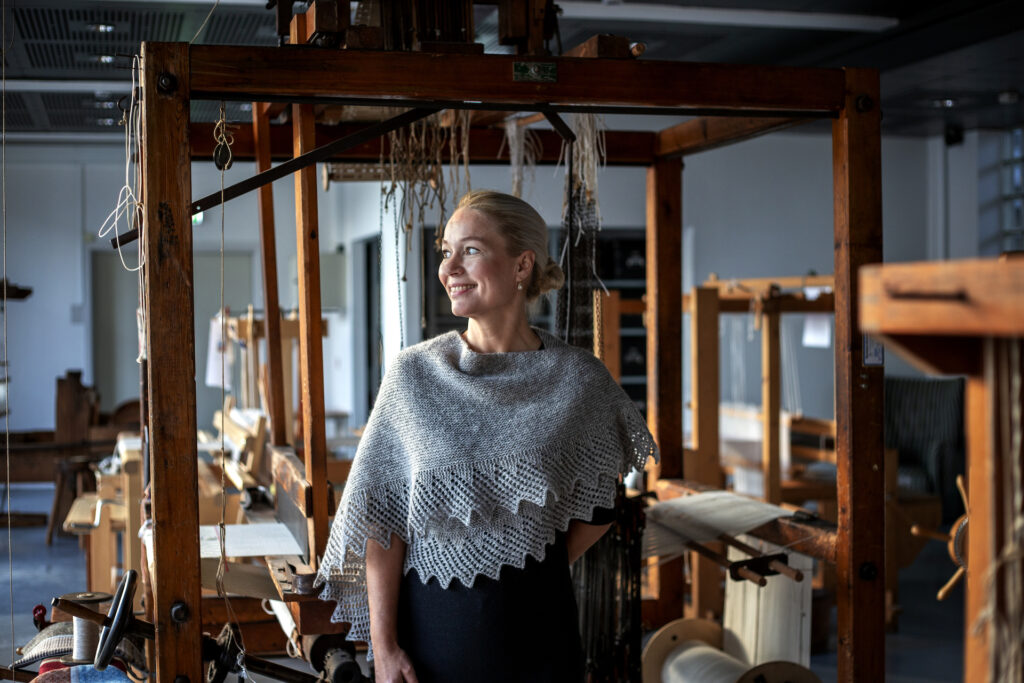 Pattern